Impacting the World Through Rose-Hulman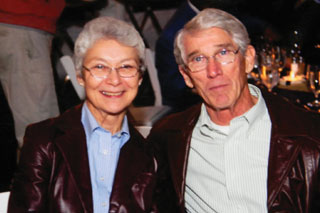 Sherman and Maria Chancellor like to direct their charitable giving to organizations that directly and positively impact their community and the world, which is why they are enthusiastic supporters of Rose-Hulman Institute of Technology.

You don't have to be an alumnus, parent of a student, or institute employee to be inspired to support the mission of Rose-Hulman.
Sherman and Maria Chancellor have lived in west central Indiana most of their lives, so they have long known about the top-ranked engineering, science, and mathematics college nearby. But it wasn't until some Rose-Hulman student interns worked with Sherm at Allison Transmission in Indianapolis that they realized just how special a Rose-Hulman education can be.
"I knew those guys were different because they weren't looking only at solving minor electrical problems; they were looking at the big picture. They had a whole different perspective," says Sherm, who retired from General Motors-Allison Division after a career that also included supervisory roles at Bethlehem Steel. He and Maria, who retired from IBM, have long been supporters of local nonprofit organizations with their fund at the Putnam County Community Foundation. They have also established a fund at Parke County Community Foundation for the repair and preservation of their historic covered bridges.
After meeting the Rose-Hulman interns at Allison Transmission, the Chancellors would later cross paths with Rose-Hulman students through their support for Lakeland Center for Therapeutic Riding, a nonprofit organization based in Coatesville, Indiana, that helps people with injuries or disabilities through therapeutic horseback riding. Rose-Hulman biomedical engineering students have a long history of helping Lakeland, formerly known as Hope Haven, develop technology to quantify the benefits of therapeutic riding.
"That's the program that made the final tweak in our decision to support Rose-Hulman," says Sherm.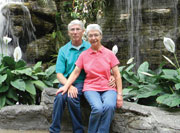 The Chancellors say supporting Rose-Hulman fits perfectly with their desire to make a practical impact on the world's problems. They have included Rose-Hulman as a beneficiary of their retirement-plan assets and created an endowment fund to support capstone and design projects, especially community service projects carried out by students majoring in biomedical engineering and mechanical engineering.
"There are big problems in the world, and it's our engineers who are going to fix them," Maria says. "The students work on real projects in the real world. We think that's important."
From supporting student projects to enjoying performances at Hatfield Hall, "We've just kind of gotten wrapped up with Rose," Maria says. "We appreciate what Rose-Hulman does."
© Pentera, Inc. Planned giving content. All rights reserved.
Disclaimer