From Northwest to Midwest, Chick and Aggie Sweeney Welcome New Adventures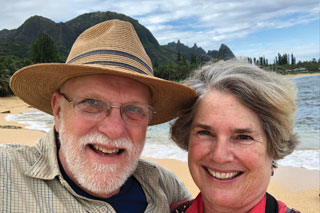 Chick and Aggie Sweeney enjoying the sun and surf on Kauai, Hawaii, 2019.

Chick and Aggie Sweeney are living proof you don't need to be a regular visitor to campus to remain closely connected to Rose-Hulman.
The couple, who met at an ATO fraternity party in 1971, have enjoyed successful careers spanning two countries and several cities, but they have never forgotten Chick's alma mater and have kept their connection to the Institute alive for more than 40 years through annual gifts and, more recently, a charitable gift annuity.
"I thrived in the smaller campus setting and the personal attention that you could get in the classroom at Rose," Chick says. "My professors knew me and were truly interested in my academic achievements."
Chick grew up near Indianapolis in Beech Grove, Indiana, and knew he wanted to be an engineer by the seventh grade. Aggie grew up in Valparaiso and attended Indiana State University. They met during Chick's senior year when Aggie was starting her education in social work and, later, public administration. Both earned master's degrees in Colorado, and the couple married on New Year's Day 1975. They started their lives together in Vancouver, British Columbia, where Chick began a career as a civil engineer for Western Canada Hydraulic Laboratories. Several mergers, acquisitions, and promotions later, Chick and Aggie would eventually land in Seattle, where they raised two children and made their marks personally and professionally.
With more than 400 projects to his name, Chick is a recognized expert in applying field data collection programs and both physical and computer-based hydraulic models to solve facility site selection, design, and permitting problems. His work has included dams, fisheries, hydroelectric projects, fossil fuel and nuclear power plants, flood control, irrigation projects, harbors, riving training works, and water supply and sewage treatment plants, to name only some. Early in his career he was named a Rose-Hulman Distinguished Young Alumnus and earned many professional distinctions, including the Pamela E. Klatt award for outstanding service to the hydropower industry in 2015.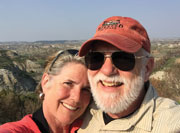 Through all of this Chick and Aggie never forgot Rose-Hulman, which Chick credits for giving him the logical-thinking and problem-solving skills that have aided him throughout his career. Chick can also not forget the personal attention he received from the late Ron Reeves, vice president for development, who helped him secure the scholarships he needed to complete his senior year.
Recently retired and relocated to Warsaw, Indiana, to be closer to family, Chick and Aggie are facing the future as a "blank slate," Chick says. He'd be surprised if Aggie doesn't end up deeply involved in nonprofit work, an industry in which she has served as an executive director, consultant, and business owner. As for Chick, the future is a little more uncertain.
"I'm still trying to decide what I want to be when I grow up," he says.
© Pentera, Inc. Planned giving content. All rights reserved.
Disclaimer