A Chiang for the Better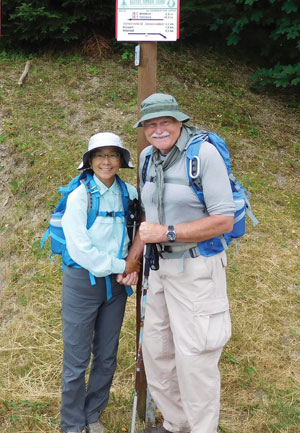 Ethel Chiang and husband Glen Freimuth hiking the Harzer-Hexen trail in Germany in 2019. The Institute's employee tuition benefit made a huge impact on Dr. Chiang's life, and she is showing her gratitude by establishing a future endowed scholarship in her estate plan to help future Rose-Hulman students.

Ethel Chiang remembers playing as a child with the kids of other Rose-Hulman faculty and staff during the Institute's annual Christmas party. She also remembers former president John Logan and his second wife, Norma, visiting the Chiang family home in Terre Haute on social occasions. And she clearly remembers working hard to prepare for the annual Rose-Hulman High School Mathematics competition.
"I feel that Rose-Hulman had a great deal to do with my education," says Chiang, now a retired doctor of emergency medicine living in Springfield, Illinois, with her husband, retired Ph.D. Glen Freimuth.
But perhaps the biggest impact on Chiang's life came when she was ready for college. As the daughter of a Rose-Hulman employee, her tuition at Indiana University was covered by the Institute. She put that benefit to good use, eventually attending IU's medical school and becoming a doctor of emergency medicine.
"[The tuition benefit] was extremely important for my family," Chiang says. "Back then, as now, college professors weren't known for making a lot of money."
Now Chiang is turning that benefit into something that will aid future generations of Rose-Hulman students. She has decided to establish a future endowed scholarship named for her father through a retirement-plan beneficiary designation. The future scholarship fund will help cover the cost of a Rose education for students majoring in mechanical engineering, which was the department in which her father was a professor from 1965 until 1986.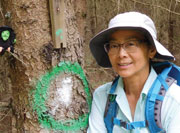 Ethel Chiang camping the Harzer-Hexen trail in Germany in 2019.
Once funded, the Donald C. Chiang Memorial Scholarship Endowment Fund will be a fitting tribute to a man who was born in Japanese-occupied Taiwan in 1931, came to the U.S. in 1959 to study engineering at the University of Minnesota, and was finally able to apply for citizenship and bring his young family to the states six years later after earning his Ph.D.
"We arrived in Minnesota in the thick of winter," Chiang recalls. "Coming from a subtropical country, it was quite a shock."
Today Chiang and her husband are enjoying retirement in Springfield, which her mother also calls home. It's especially rewarding to know her father's passion for education will live on through this future endowed scholarship fund, she says.
Dr. Donald C. Chiang's photo still hangs on the wall in the mechanical engineering department, and now, more than ever, future students will have a special reason to pause and look at the man whose legacy they are keeping alive.
© Pentera, Inc. Planned giving content. All rights reserved.
Disclaimer