From the Halls of Montezuma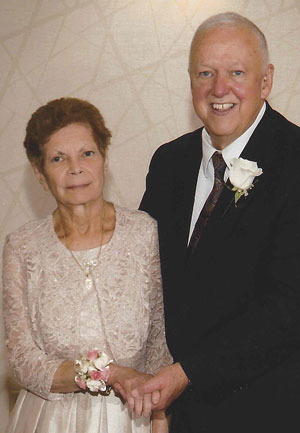 Isabel and Jim (CHE, 62) Summers celebrated their 50th wedding anniversary in 2016.

It would be hard to find a better American Dream story than that of Jim and Isabel Summers.
Born almost 2,000 miles apart, Jim and Isabel met in Cleveland, Ohio, soon after Jim graduated from Rose Polytechnic in 1962 and Isabel arrived in the country with big dreams from her native Puerto Rico.
Raised along the banks of the Wabash River in the small Hoosier hamlet of Montezuma, Jim was urged to attend Rose by his uncle—who was a barber in the town of Bloomingdale.
"He said, 'You're good at math and science. You should go to Rose,' " Jim recalls. "I believe barbers collect a whole lot of information in their barber shops. He was a wise man."
With the help of some scholarships and a job in the cafeteria to pay the bills, Jim was soon a chemical engineering major making his way through Rose's demanding curriculum.
"It was tough," Jim recalls. Although an athlete in high school, he decided to limit himself to intramural sports at Rose. "I worked pretty hard," he says.
After graduation, Jim took a job in the vinyl division of BFGoodrich in Cleveland. While there, he shared a house with other employees of the company, including a young man from Costa Rica. Through that connection, Jim and Isabel met and began their story together.
However, marrying Isabel, like graduating from Rose, was not easy, Jim recalls. He had to travel up a muddy mountain road in rural Puerto Rico to meet his would-be father-in-law to ask, in broken Spanish, for his daughter's hand. Fortunately, the answer was "si."
More than 50 years and two children later, Jim and Isabel are still living in the greater Cleveland area, where Jim has partially retired from a successful career as a scientist and engineer. With 18 patents to his name and more than 100 peer-reviewed publications, Jim helped BFGoodrich make vinyl siding and windows weatherable and also developed technology to make electrical control housings on washers, dryers, and dish washers from flame resistant vinyl. After his partial retirement, he has consulted—having the goal of creating jobs for others. He also edited PVC Handbook, printed in English, Russian, and Chinese.
"Rose-Hulman gave me so many good fundamentals in science and engineering that I used throughout my career," he says.
To show their appreciation, Jim and Isabel have made giving back to the Institute a priority. They are members of the Chauncey Rose Society and have included Rose-Hulman in their living trust, making them members of the 1874 Heritage Society.
© Pentera, Inc. Planned giving content. All rights reserved.
Disclaimer