Support for Rose Runs Deep for Pat Noyes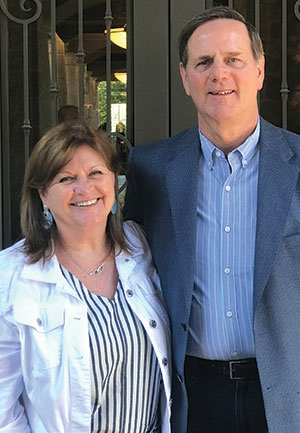 Pat (ME, 1976) and Cindy Noyes reside on the outskirts of Houston, Texas. Pat delivered the Institute's 2016 Commencement Address when he also received an honorary doctorate. He earned the Alumni Association's Honor Alumni Award in 2011.

Growing up as one of six kids in a small house in Harrison, Ohio, Pat Noyes knew that the only way he was going to college was with a scholarship.
Fortunately, Noyes was a talented athlete, and college coaches had noticed—including a football coach from a small engineering college in far-away Terre Haute, Indiana. The rest is history.
"I always knew I wanted to be an engineer," Noyes says from his home outside Houston, Texas. So when head football coach Bob Bergman introduced Noyes to the Institute, it seemed like a perfect fit. But it took an academic scholarship, known as a Presidential Scholarship, to open the door. "I wouldn't have gotten an education without it."
That's part of why Noyes feels so strongly about giving back to Rose-Hulman today. Without the generosity of those who supported the scholarship he received, he would never have made the valuable step of becoming a Rose-Hulman engineer.
At Rose, Noyes pledged Sigma Nu, played varsity baseball, and quarterbacked for the football team. He is still in the school's record books for average yards per completed pass in a single game and in a single season.
The ink on Noyes' Rose-Hulman mechanical engineering diploma was barely dry when he, following one of his Sigma Nu brothers, started work at Exxon in 1976. Four years later, he joined Mitchell Energy Company where he was part of the leadership team that launched the U.S. shale gas revolution. After Mitchell was sold in 2002, Noyes took the helm at Stroud Energy—rescuing the company from financial distress. He then founded his own company, Grenadier Energy Partners, where he is president and CEO today.
Throughout his career, philanthropy has been an important part of Noyes' life. He and wife Cindy raised three children and, as part of their Christian faith, have always managed to set aside a significant portion of their income to help others. At Rose-Hulman they have generously supported the Patrick J. Noyes Scholarship Endowment Fund, the Bill Sisson Sigma Nu Scholarship Endowment Fund, and the Athletic Endowment Fund, of which Pat is a co-chair-level supporter. In addition, Pat and Cindy, both Chauncey Rose Society members, have included Rose in their estate plan through a beneficiary provision in their revocable trust.
In contributing to Rose, Noyes says he is giving back to an institution that helped shape who he is today.
"Rose has been a big, big part of who I am and what I've eventually become," Noyes says. "I don't think I'd be in the position I'm in today if not for Rose."
© Pentera, Inc. Planned giving content. All rights reserved.
Disclaimer