David Price Blends Current and Future Gifts, Establishes Scholarship to Honor His Parents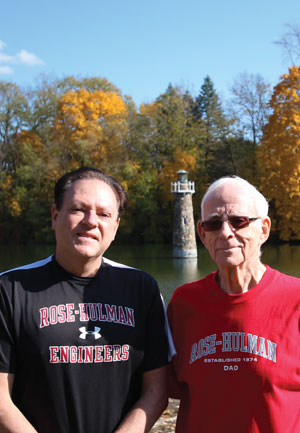 David Price with his father David at Falls Park in Pendleton, Indiana. David established the Price Family Scholarship Endowment Fund to help students who might not otherwise be able to afford to attend Rose-Hulman.

David Price grew up steeped in STEM. The Pendleton, Indiana-native's mother Marilyn taught high school math, his father David taught science, and his grandfather was an electrician. So, for David, attending Rose-Hulman to study electrical engineering was a natural fit, especially after his first visit to campus as a high school senior.
"The moment I stepped onto campus, I just felt something that resonated with me," David says. "It's still that way."
But, apart from STEM, David grew up with another strong parental influence: helping others. "My parents had a real passion for community service," David says. "Growing up, it was always mom and dad going somewhere to help someone."
Now, to honor his parents, David has established the Price Family Scholarship Endowment Fund to help students who otherwise might not be able to afford to come to Rose-Hulman. It seemed the perfect tribute to parents with a love for both STEM education and helping those in need, David says.
Marilyn Price passed away in 2002, but David was able to share news of the scholarship with his father on his dad's 80th birthday. "He was very excited," David says.
In addition to creating the scholarship with a direct contribution and through his will, David has remained very active with Rose-Hulman since graduating in 1986. His career took him to Honeywell Aerospace, where he worked in Eastern Europe for more than a decade before returning to the U.S. to be closer to his family and to take a position with General Electric in Michigan, where he now serves as engineering manager.
As an active alumnus, David regularly mentors Rose-Hulman students, serves on the electrical engineering advisory board, and established the Grand Rapids-area Alumni Network. Establishing a scholarship felt like the perfect next step to help both his alma mater and honor the parents whose influence meant so much.
"What better way to honor my parents," David says. "It just made sense."
© Pentera, Inc. Planned giving content. All rights reserved.
Disclaimer