For '77 Alumnus, Giving Is Key to Living
Paul and Elaine, pictured at a holiday event, were recognized as members of the Chauncey Rose Society during Paul's 40th reunion.

For Paul and Elaine Georgas, giving is not just something to consider at tax time or during the holidays—it's a way of life.
Paul, a 1977 chemical engineering alumnus, and Elaine, a Saint Mary-of-the-Woods grad, met at a party at Paul's fraternity, Phi Gamma Delta, in Terre Haute when they were both still in college. More than 40 years together and two sons later, they are happily residing in Mobile, Alabama, planning for retirement and living their philosophy of giving—something deeply rooted in their religious beliefs.
"When Paul would get paid, our first checks were always our tithes and offerings," Elaine says. "Then, our bills were paid. There was little money for dinners out and vacations, but we've had a blessed life."
Their blessings have included two sons: Adam, a 2007 Rose-Hulman alumnus with degrees in chemical engineering, biochemistry, and molecular biology, employed with Archer Daniels Midland; and Aaron, a U.S. Navy lieutenant in the Navy Nurse Corps.
Now working as a senior staff consultant with KBC Advanced Technologies, Inc., Paul started his career at B.F. Goodrich followed by a three-year stint at Monsanto and then 25 years at Degussa (later Evonik) in Mobile. Paul believes his Rose-Hulman education established a course for a successful and rewarding career.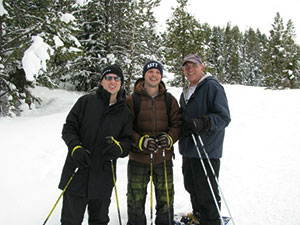 From left, Adam, Aaron, and Paul during a ski trip

"Rose was challenging and demanding," he says. "It set me on a path for life."
As Paul says, he was "not a superior student"—which is why the scholarship he and Elaine have endowed is designed for mid-level scholars with financial need. Top students often have access to many sources of financial aid. That's not always the case for B- and C-level students, he says.
In recognition of their generous gifts to the Institute, the Georgas' were inducted into the Chauncey Rose Society in 2017 at Paul's 40th reunion. They have also remembered Rose-Hulman in their estate plan.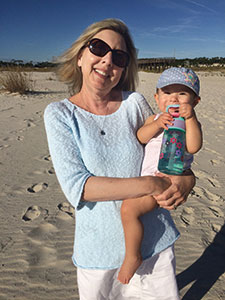 Elaine with granddaughter, Esther

Paul, being an avid history buff, is impassioned by Winston Churchill's quotation, "We make a living by what we get, but we make a life by what we give." The Georgas' both agree that no matter what your financial situation, a contribution to Rose-Hulman is a valuable way to enable a current student to continue his or her education at the Institute.
© Pentera, Inc. Planned giving content. All rights reserved.
Disclaimer