Tim Hachfeld (EE, 2008) Charts New Course Remembering Alma Mater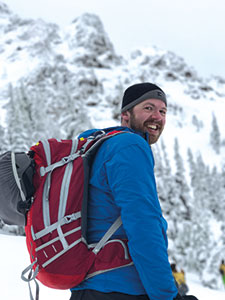 Tim Hachfeld (EE, 2008)

Tim Hachfeld wanted to do something unusual after college. A cum laude electrical engineering graduate, he could have easily stepped into a very comfortable job back home in Minnesota. But a pivotal conversation with a Rose-Hulman professor pointed him in a totally different direction.
"He told me I should consider things that were not just going home, that I should take advantage of a time when I didn't have things that I had to do," Hachfeld recalls Dr. Charles Joenathan, a professor of physics and optical engineering, advising him.
Hachfeld's three-part goal upon graduation was to do something that involved service to a cause greater than himself, was outside the norm, and was technical in nature. He joined the U.S. Navy and was soon learning about nuclear power in preparation for a three-year stint as an officer aboard the U.S.S. Georgia.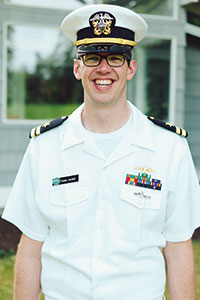 Hachfeld served as an officer aboard the U.S.S. Georgia, a nuclear-powered guided missile submarine, for three years.

After eight years in the Navy and reaching the rank of lieutenant, Hachfeld is now pursuing an MBA, and he recently completed a summer internship for Eli Lilly. This former four-year football standout and track and field athlete has not forgotten the engineering college that helped make all this possible. For years, he has included Rose-Hulman as a beneficiary of his life insurance policies.
"Faced with my Navy life insurance policy, I looked back at the people or organizations that had had the biggest impact on my life," he says. Rose-Hulman seemed an obvious choice.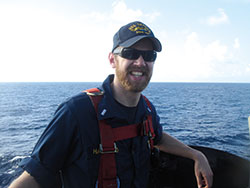 Now living in the Pacific Northwest and an avid skier, Tim Hachfeld remembers the important role Rose-Hulman has played in his life.

Hachfeld also feels strongly about supporting Rose-Hulman because, as a student, he benefited from someone else's philanthropy. The recipient of a John and Elizabeth White Scholarship says, "I wouldn't have been able to go to Rose if not for the generosity of others."
A 2008 graduate, Hachfeld realizes he is not the age most people associate with financially supporting their colleges or universities. But he believes it's never too early to remember and support important institutions and causes.
"It's easy to think, 'I'll do that later,'" he says. "But you just never know when you won't have a later."
© Pentera, Inc. Planned giving content. All rights reserved.
Disclaimer