Alumnus Honors Lifelong Connection with Rose-Hulman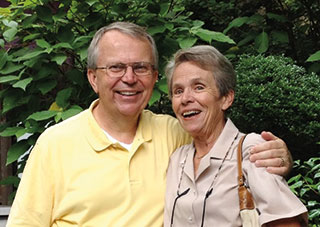 Art and Jo Ann Nelson

Art Nelson knew almost nothing about Rose-Hulman when he attended a college fair in 1971 near his home in southern Indiana. At the time, he expected to study engineering at a big state university. But Chuck Howard, a Rose-Hulman admissions representative, had other ideas.
"He was very gracious," Nelson recalls of Howard, who would later serve as vice president of admissions. "Then we started getting all this mail from Rose-Hulman. I was impressed by the interest the school showed and [after a campus visit] by the friendliness of the professors."
Nelson, the first in his family to attend college, soon realized individual attention was par for the course at Rose-Hulman. On his first day on campus, every freshman received a personal welcome from executive vice president and distinguished professor Herman Moench.
"He greeted every one of us by name," Nelson recalls. "You walked away with the feeling that this was a special place."
Professors who took an interest in their students, combined with a rigorous curriculum, was good preparation for life after college, says Nelson, who graduated with a degree in mechanical engineering in 1975. Rose-Hulman set the stage for a nearly-30-year career at Du Pont and, later, at Toray Fluorofibers (America)—a unit of Toray, an international chemical company—where Nelson is president and CEO.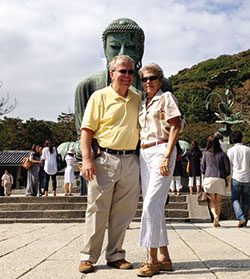 Art and Jo Ann Nelson, seen here in Kamakura, Japan, have found many ways to continue to support Rose-Hulman's mission.

"Rose challenged you, and I think that was a great thing," he says. "The education I received laid the foundation for a good life for both of us."
To help today's Rose-Hulman students receive the same opportunity, Nelson and wife Jo Ann, also a Du Pont veteran, continue to support the Nelson Memorial Scholarship Fund—named in honor of Art's late parents, Arthur and Grace Nelson. Art and Jo Ann are Chauncey Rose Society members and have also generously included the Institute in their estate as a retirement-plan beneficiary. Meanwhile, they have remained active in other ways. Art has served as Alumni Association president and the couple has often returned to campus for reunions and other special events.
"It's a lifelong connection," Art explains. "At Rose, you got a good education from people who really cared about you."
© Pentera, Inc. Planned giving content. All rights reserved.
Disclaimer