Joe and Judy Moser Make Estate-Plan Gift to Add to Institute's Future Success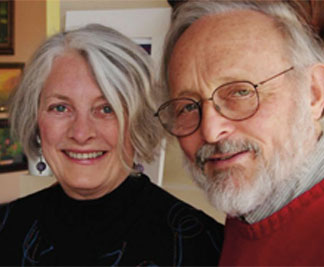 Judy and Joe Moser

For four years in the 1950s Joe Moser's daily trek to Rose Polytechnic Institute required two things: his thumb and a bicycle.
The electrical engineering major would leave his house each morning and peddle his bike to friend Ron Myrick's (ChemE, 1956) place near U.S. 40. "Then we'd stick our thumbs out." In those days, Moser says, hitchhiking the 12-mile trip to campus was "very reliable."
But Moser's real journey started when his high school geometry teacher taught him the revolutionary idea that math was worthy of study in and of itself, beyond its practical applications. It was a life-changing realization—and part of Joe's inspiration to make a gift from his retirement plan in support of the Department of Mathematics.
In that time of intense geopolitical uncertainty, "I was looking for things that were absolutely true," Moser says. Math provided that.
At Rose, Moser majored in electrical engineering because it seemed the most mathematical of the four majors then offered. Graduate school took him to Purdue University, where he studied mathematics before returning to Rose for six years to help establish the mathematics major that was lacking during his undergraduate years. Then came two years at a mathematics think tank in Pennsylvania, followed by a half century teaching math at West Chester University near Philadelphia—where he retired in May.
Despite the geographic distance, Moser has never lost touch with Rose-Hulman. For many years he attended the institute's annual Undergraduate Mathematics Conference, and he and wife Judy often return to campus for Homecoming.
"I think Rose-Hulman is an exceptional place," Moser says.
Despite retirement, Moser hasn't stopped learning and thinking about the subject he loves. He still visits West Chester's math department and meets regularly with some fellow retired faculty in a club they call OM Group for "Old Mathematicians."
By making Rose-Hulman a beneficiary of Joe's retirement plan, the Mosers hope their generous estate gift will help deliver the sort of excellent education Joe received more than 50 years ago. He and Judy are especially pleased that the institute opened its doors to women in the 1990s.
Most of all, Moser says, he appreciates that Rose-Hulman has maintained its small size and high academic standards.
"That's an endangered species today," he says. "You're bucking a trend."
© Pentera, Inc. Planned giving content. All rights reserved.
Disclaimer