Remaining No. 1 Is an Ever-Increasing Challenge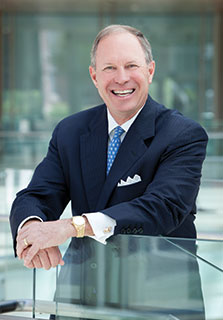 Jim Gidcumb '76
When he first trotted off of a big yellow school bus as a high school freshman and onto Rose-Hulman's campus, Jim Gidcumb was one of dozens of students ready to knuckle down for a day of intense math competition. He could not have imagined that in a few more years he would be graduating as the college's senior class president with an enduring place in the school's athletic record books. Or that he would eventually be giving back to Rose-Hulman with generous annual and estate gifts.
The first in his family to attend college, Jim wanted to be a doctor, so a rigorous engineering school wasn't an obvious choice. However, his parents wisely encouraged him to continue his math contests, take part in Operation Catapult, and attend Rose-Hulman.
"They knew that if I went to Rose, I'd have a job when I graduated, especially if I eventually decided not to pursue medical school," he recalls. The advice turned out to be golden: a rewarding job in the chemical industry was awaiting the chemical engineering major upon graduation in 1976.
As a "smaller school, Rose really allows students to reach their full potential, versus being at a much larger university," says Jim. "You could participate in whatever you wanted to do." During his four years at Rose-Hulman, Jim was the tennis team MVP twice, had brief stints playing junior varsity basketball and golf, and was one of the most successful receivers in Rose-Hulman's football history at the time—his eight receiving touchdowns in a single season stood as a school record for 34 years. In 2004 he was inducted into the school's Athletic Hall of Fame.
In 1993 Jim earned an MBA from Washington University, providing a stepping stone to his current successful 15-year career in financial services as vice president and wealth management advisor for Merrill Lynch, serving client families in 18 states.
Jim and Cathy, his wife of 27 years, live in St. Louis, but Jim stays connected: He is the outgoing president of the Rose-Hulman Alumni Advisory Board, a member of the Varsity R Club Board, and the St. Louis Alumni Club Coordinator. Cathy and Jim have also generously provided annual financial support to the institute and are members of the Chauncey Rose Society and the 1874 Heritage Society.
"Keeping Rose-Hulman No.1 is an ever-increasing challenge—it will require world-class facilities and professors and a much larger endowment to sustain both," Jim says. "It's gratifying to be able to give back to the institute that provided me with so many great, memorable experiences."
© Pentera, Inc. Planned giving content. All rights reserved.
Disclaimer