Rose Grad Wants to Help Future Students Ride to Success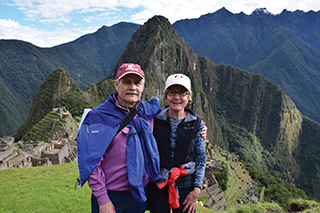 Riding high: Bob and Jeanne Evans have embarked on challenging cross-country bicycle rides all over the globe. Now they are establishing a future endowed scholarship fund to help future engineering students get the education they need to reach their own spectacular heights.

As serious amateur bicyclists, Bob and Jeanne Evans know life is a lot like a cross-country trek, with its share of challenging hills and stubborn headwinds but with the potential for breathtaking views at the end of each stage.
But success in biking, as in life, requires the right equipment. For Bob, his 1966 Rose Polytechnic mechanical engineering degree was an essential part of his successful career in the automotive industry. Now he and Jeanne want to help ensure future Rose-Hulman students have the financial resources they need to complete their own personal journeys.
"I think Rose opened some doors to me, giving me a good career," Bob says. "Rose did that for me, and Jeanne and I want to pay Rose back for that."
The future endowed scholarship the Evanses are establishing will be funded through a retirement-plan beneficiary designation, which for many families is the most tax-efficient way to make a charitable gift. The Evanses are longtime supporters of Rose-Hulman and members of the 1874 Heritage Society.
The scholarship is specially designed to aid female students who graduated from small high schools. Bob and Jeanne both graduated from small schools, and coming from a small school can mean having fewer opportunities than other students, Bob says. He and Jeanne would like their scholarship to help address that imbalance.
By focusing on female students, the scholarship will also address the imbalance between men and women studying engineering, Bob says. Jeanne, a graduate of Ohio State who spent her career in education as a teacher and consultant, is especially interested in helping young women succeed.
"Young women are underrepresented in engineering," says Bob, who worked for Delphi Automotive in Dayton, Ohio, retiring in 2006. "If we can encourage women to take up the profession, we want to do that."
The Evanses are currently planning a cross-country biking trip through Europe but are also looking forward to returning to Rose-Hulman this year, when Bob will have a chance to visit with former classmates during his 50th Class Reunion celebrations.
"Just graduating from Rose was an enormous event," he reflects. "You work very hard for four years, but after graduation everyone just suddenly disperses. It will be nice to step back and take a little time to appreciate what we did."
© Pentera, Inc. Planned giving content. All rights reserved.
Disclaimer