Alumnus Honors Parents' Gift of Determination Through New Scholarship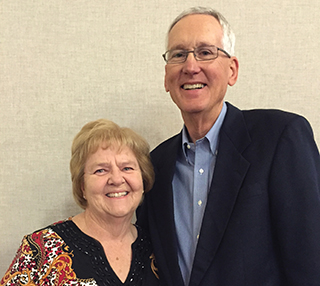 Don and Cindy Sparks found a way to honor Don's parents by establishing a scholarship in their name.

For Don Sparks entering Rose-Hulman as a freshman in 1968, the prospects of a glittering academic career appeared bleak. An initial assessment commonly done in those days estimated he'd graduate with a C average. But he was determined to prove that wrong.
"I beat the projection by quite a little bit," says Don smiling and recalling those early days at Rose Poly.
In the last few years Don, a mechanical engineering graduate, and his wife Cindy decided to give other young people the same opportunity he enjoyed by establishing an academic scholarship in his parents' honor.
Tuition cost a little more than $500 per quarter when Don entered Rose, he recalls. "Today the cost of higher education has gotten so high; it's become prohibitive for some students. If Cindy and I can help in some small way, that's what we'd like to do."
After graduating from Rose-Hulman (the school's name changed before Don graduated in 1972), Don went to work for Indianapolis Power and Light and soon began his MBA in finance at the Kelley School of Business at Indiana University. He would later work for Eli Lilly and Nabisco before finishing his successful 30-year career as director of plant engineering, maintenance, and operations at Alcon Laboratories in Texas.
"My Rose-Hulman education put me in a very good situation," Don says.
To give other young people the same opportunity, Don and Cindy have established the Ansel and Helen Sparks Memorial Scholarship in honor of Don's parents—who were both active and well known in the Terre Haute/Vigo County community. Don and Cindy have generously decided to further support that scholarship through proceeds from their estate.
Ansel Sparks was born in rural southern Vigo County in 1906, attended the local Brown Business College, and then started a career in the savings and loan industry at the Terre Haute Mutual (later Mutual Federal) Savings and Loan—where he would retire as president. Ansel married Helen, a Terre Haute native and Wiley High School graduate, in 1947. Both were active in Terre Haute's historic Centenary United Methodist Church for many years as well as volunteers in many other local organizations.
The Ansel and Helen Sparks Memorial Scholarship provides financial assistance for qualifying juniors and seniors from Vigo County. It has been awarded to three students since being established in August 2013. Naming the scholarship for his late parents is especially appropriate because it was their prodding that kept young Don intensely focused on his studies at Rose-Hulman, recalls Cindy.
"He took studying very seriously. He got that from his parents," Cindy recalls. "They would be very pleased by the scholarship."
"We've been blessed," Don adds. "I think support of higher education, and Rose-Hulman in particular, is a very worthwhile thing to do."
Don and Cindy live in Mansfield, Texas, where they enjoy the year-round golfing weather. They have a grown daughter, Kayla, who lives in Mansfield and works in elementary education.
© Pentera, Inc. Planned giving content. All rights reserved.
Disclaimer