Our Eighth Wonder of the World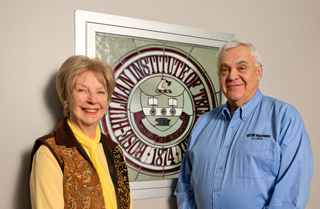 Deanna and Elmer Guerri

When talking to Elmer and Deanna Guerri, you quickly get the sense that their affection and respect for Rose-Hulman have only grown stronger in the half century since Elmer earned his bachelor's degree in chemistry in 1965. "Rose-Hulman is our Eighth Wonder of the World," Elmer says. "Where else could we achieve so much with our donations of time, effort, and money?"
These philanthropic decisions are driven by a dedication to education and the sense of fulfillment that they experience through hands-on interactions with students. Elmer's lifelong interest in archeology and radiocarbon dating have translated into an opportunity to be a guest lecturer in anthropology, sponsoring and working directly with students in senior-year capstone design projects, and accompanying Dr. Scott Clark's anthropology class to see the Cahokia Mounds in Illinois and visit a working archeological dig site. "We want to see the students having uplifting experiences throughout their college years," Deanna states.
Working so closely with the students on campus also provides the couple with a great perspective on the sort of undergraduate students who are drawn to Rose-Hulman, the kind of student they are glad to support with their giving. "We are always impressed with the students' maturity, work ethic, brilliance, and their aspirations for the future," Elmer says.
The Guerris are proud of the progress Rose-Hulman has made in just under 50 years. Elmer reflected, "When I graduated, I had one classmate who went to work for NASA, and we were all pretty excited. Today that is the level all of the students are working on."
However, what hasn't changed is just as important to the Guerris: Rose-Hulman's focus on individual attention, the low student-to-professor ratio, and how faculty members are dedicated to supporting students' success—in and out of the classroom.
Last fall Rose-Hulman was honored to welcome Elmer and Deanna into the Chauncey Rose Society, recognizing their lifelong giving to the institute.
© Pentera, Inc. Planned giving content. All rights reserved.
Disclaimer