"Reaping the Harvest" and Transforming Lives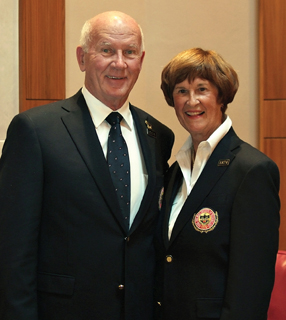 Edward and Lynn Kelley
Giving back to Rose-Hulman by helping students was key for Ed Kelley, mechanical engineering graduate from the class of 1964, and his wife, Lynn, a junior high teacher and Indiana State University graduate. "There are a lot of bright kids that we felt needed some help," Ed says.
The couple made a gift of real estate and started the Edward P. and Lynn M. Kelley Scholarship Endowment Fund, a gift that makes them members of the Chauncey Rose Society. In the span of twelve months they both were proudly wearing the navy jackets of Chauncey Rose Chieftains.
Ed's father was a member of the Class of 1926, the first class to graduate from Rose-Hulman's current campus location. Despite a family legacy at the institute, Ed and Lynn's relationship with Rose-Hulman almost didn't happen. After the couple married early in his college career, Ed left the college to support his family. After Lynn graduated from Indiana State University, Ed returned to Rose-Hulman and earned a bachelor's degree within two years after re-enrolling, sometimes alternating days between two simultaneous classes to catch up.
A 30-year international career with Caterpillar Inc. followed. Prudent investing put the Kelleys in a position to enjoy their early retirement in Arizona and afforded them the opportunity to give back to Rose-Hulman. Once the means were in hand, the motivation was fairly straightforward. "I did some recruiting for Caterpillar and was always impressed with the caliber of Rose-Hulman students. We were always looking for engineers that could tell us what they had done, not what they would like to do. We found those students at Rose-Hulman."
Ed and Lynn chose a direct gift of property with a retained life interest to dramatically increase the future impact of their endowed scholarship. This gift allowed the Kelleys to receive an immediate tax benefit for their gift to Rose-Hulman. In addition to the substantial tax benefits, Ed and Lynn retain use of the property until it is voluntarily relinquished or their deaths. This arrangement is mutually beneficial to both the Kelleys and Rose-Hulman.
"We get to reap the harvest in terms of tax benefits while supporting Rose-Hulman in a special way," Lynn shares. Ed adds, "We get lunch now instead of somebody getting dinner after we pass away."
© Pentera, Inc. Planned giving content. All rights reserved.
Disclaimer