Larry Thomas Helps Others Realize the Rose-Hulman Dream by Establishing Scholarship Funds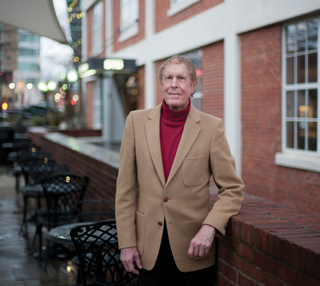 Lawrence (Larry) D. Thomas
A famous scene from the 1967 film The Graduate has a family friend pulling an impressionable Ben Braddock (Dustin Hoffman) aside to capture in one word the secret of future economic success: Plastics.
Years earlier, Lawrence (Larry) D. Thomas had heeded that advice for a successful engineering and marketing career in the plastics industry, paving the way for retirement at the age of 55 and support of his alma mater through planned giving arrangements to enable others to realize the dream of attending Rose-Hulman.
"My family circumstances were modest at best," he says. "I would hate to think what would have happened without the opportunity to attend Rose (Polytechnic Institute)."
A scholarship, along with saving dollars through living at home, afforded him the ability to earn a bachelor's degree in chemical engineering in 1957.
"I always knew that I was going to college. However, my family couldn't afford for me to attend an institution with the quality and reputation that Rose Poly had in chemical engineering (being the first American college to confer a degree in that discipline)," Thomas says. "As a boy growing up in Terre Haute, I always admired the students from Rose in the Terre Haute community who wore T-shirts with chemical burns on their blue jeans. That was the 'dress code of the day' for those students. I wanted to be one of them."
Those ambitions became reality, and he took advantage of every opportunity for personal and professional growth during his career on campus. He was a member of the Alpha Tau Omega fraternity and earned multiple varsity letters in track, competing for Phil Brown, the institution's legendary athletics coach.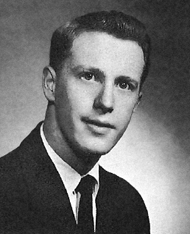 Lawrence (Larry) D. Thomas '57

"What Rose-Hulman concentrated on is what I wanted to learn," Thomas says. "I absorbed everything I could about chemistry and came away with a strong background in polymers that was helpful throughout my career. I can't say enough about the strong foundation in chemical engineering that Rose provided me."
Rose-Hulman's vision of producing graduates who are inspired and prepared for lives of purpose and success extended to Thomas also learning to appreciate the principles of economics, including long-term financial planning through stock market investing. Those lessons would provide personal financial dividends throughout his career and are now benefiting Rose-Hulman through his planned giving contributions.
Thomas became a member of the Institute's Chauncey Rose Society after setting up an endowment fund to support a scholarship. He has also established a series of planned gifts that will be used to provide additional funding to his endowed scholarship.
"This is something that I always wished I had done earlier," the 79-year-old says. "I didn't get serious about estate planning until recent years. That's when I started reflecting upon those things that made a difference in my life, like the scholarship to attend Rose. I wanted to make sure others wouldn't miss out and could follow in my path."
Thomas had 32 job offers upon graduating from Rose Polytechnic. His strong background in chemicals and polymers became valuable while working for the Bakelite Corporation. The electrical non-conductivity and heat-resistant properties of plastics made from synthetic components were useful in electrical insulators, radio and telephone casings, and such diverse products as kitchenware, jewelry, pipe stems, firearms, and children's toys.
After two years with the Army's 82nd Airborne Division, which fulfilled his service obligation as an ROTC graduate, Thomas resumed his engineering career with Union Carbide Corporation, known for possessing some of the chemical industry's most advanced process and catalyst technologies and operating some of the most cost-efficient, large-scale production facilities in the world. He helped lead departments that expanded new product lines and then moved into marketing new film products.
Marketing became a greater career focus for the next decade with Hoechst Celanese, a global process technology innovator that engineers and manufactures a variety of products essential to everyday living. Thomas led advanced technology operations from the company's American headquarters in Greer, South Carolina.
Wise investments and frugal economic principles allowed Thomas to retire in 1991, and now he enjoys golfing and spending time with friends at his home near Greenville, South Carolina.
"I've had a successful and rewarding life," he reflects. "I remember the day that I brought home my first paycheck (from Bakelite Corporation). It brought a smile to my father's face. He was so proud, and I was so delighted that I had made him proud. That wouldn't have been possible without my Rose education and the scholarship that made it all affordable."
© Pentera, Inc. Planned giving content. All rights reserved.
Disclaimer